Fig 1,
'Das Cabinet Des Dr Calidari'
front Co
ver Artwork
*'Das Cabinet Des Dr. Caligari' *was being made in 1920 has a large influence in the arts. The stage like composition in the scenes such as when Franics and Jane are sat around her table are distinctly Berkoffin. Another person has drawn inspiration from the film Tim Burton and Cesare is a timelessly designed character which is not too dissimlar from Edward Scissor Hands. The way of the scene works where Cresare takes Jane across the rooftops to composed with false warped depth and the jagged angles apparent throughout the film and also reminded me of Burton and other surrealist modern directors.
the environment of the film related has some landscape of sharp angles.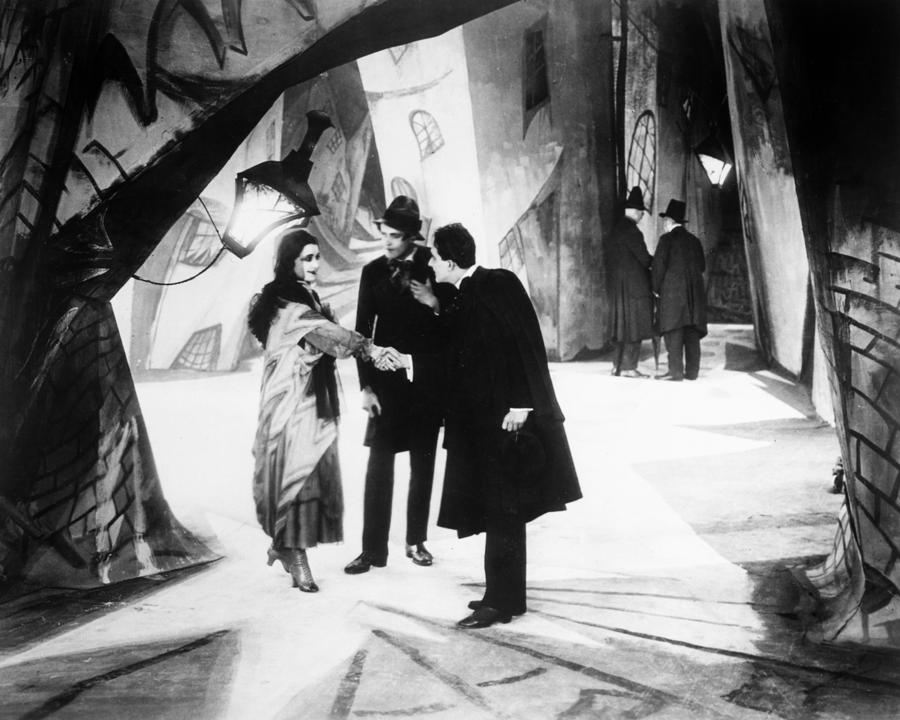 The film is open in the German town of Holstenwall, it seen the drawing as house like shrieks climbing a in the steep hill. After a prologue a story is told a sideshow operator named Caligari (Werner Krauss). He arrives at the fair to the exhibit of Somnambulist a man who claim has been sleeping since his birth 23 years ago. The figure named Cesare ( Conrad Veidt) was sleeping in a coffin and his hand- fed by the crazed looking doctor, who claims he can answer any question. (
Ebert, R (2009)
Source
Illustration list
Fig 1 Das Cabinet Des Dr Calidari front Cover Artwork (
Assessed 23/09/2015)
http://img.wonderhowto.com/img/72/91/63405154477797/0/cabinet-dr-caligari.w654.jpg
Fig 2
http://images.fineartamerica.com/images-medium-large/1-cabinet-of-dr-caligari-granger.jpg

Bibliography
Ebert, R (2009)
http://www.rogerebert.com/reviews/great-movie-the-cabinet-of-dr-caligari-1920 (Assessed 23/09/2015)
http://liviwilmore.blogspot.co.uk/2013/09/das-cabinet-des-dr-calgari-review.html (Assessed 23/09/2015)