Figure 1- film poster
Jaws (1975) is an American thriller film was directed by Steven Spielberg and It is based on Peter Benchley's 1974 novel. The genres of this film are drama, action, adventure, mystery and suspense. The movie is a story about a shark is threatening the island of Amity. At the beginning of the film there is a girl in the middle of the ocean and suddenly the sharks attacks her, (Susan Backline). The use of the camera suggests that sometimes in the shot you cannot see the shark as it is attacking below the ocean of the scenes of the film.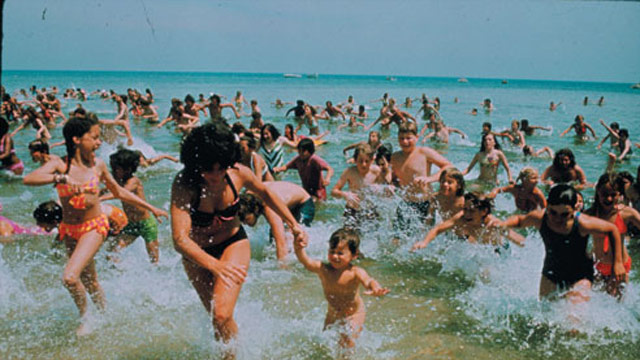 Figure 2- Beach at Amity Island
Then in the beach scene on Amity Island where the tourists are enjoying and swimming in the sea, a group of children swim a bit far from the others and suddenly the shark attacks.
"The thing about a shark, he's got lifeless .black eyes, like a doll's eyes. When he comes after you, he doesn't seem to be living until he bites you, and those black eyes roll over white. . . ." (Ebert 2000)
The music was influenced by another film. "
It might be worth to recall that Stravinsky's 'The Rite of Spring' (2011) was used by Disney to evoke prehistoric monsters in the film 'Fantasia' (1940), and this may well had an influence on the sound of fear that Williams created. By such means, the horror of the shark its transferred into the imagination of the audience." (Sinyard 1987:32).
In the film the sound of the music tell that the shark is going to attack.
Bibliography:
Burlingame, J. (2012) The film music society: John Williams recalls 'jaws' - by Jon Burlingame - by Jon Burlingame. Available at: http://www.filmmusicsociety.org/news_events/features/2012/081412.html
(Accessed: 20 February 2016).
Ebert, R. (2000) Jaws movie review & film summary (1975) | Available at:
http://www.rogerebert.com/reviews/great-movie-jaws-1975 (Accessed 9 February 2016)
Ebert, R. (2008) Roy Scheider, 1932-2008 | interviews. Available at: http://www.rogerebert.com/interviews/roy-scheider-1932-2008 (Accessed: 9 February 2016)
Kermode, M. (2015) Jaws, 40 years on: 'One of the truly great and lasting classics of American cinema'. Available at: http://www.theguardian.com/film/2015/may/31/jaws-40-years-on-truly-great-lasting-classics-of-america-cinema (Accessed: 10 February 2016).
Sinyard, N. (1987) Films of Steven Spielberg, the (bison book S.). Twickenham, Middlesex: Hamlyn
Illustration List:
Figure 1- Flim poster
https://garethrhodes.files.wordpress.com/2012/08/movie_-_jaws_wallpaper.jpg
( Accessed on 9 February 2016)

Figure 2- Beach at Amity Island
http://derekwinnert.com/wp-content/uploads/2013/12/470.jpg
(Accessed on 28 February 2016)
Figure 3- Still image
http://www.geekedoutnation.com/wp-content/uploads/2014/08/jaws_shot4l.jpg
( Accessed on 20 February 2016)