Duel
(1971) was directed by Steven Spielberg is an action, mystery and thriller film which also a TV film. Spielberg's first feature film shows a tense, relentless tale, of two vehicles, one a cars and the other huge truck. It is about a mysterious truck driver which decided to chase the driver of a car played by Dennis Weaver, down for no apparent reason. The director does a stunning job of making the vehicles the focus of the film as we never fully see the truck driver. He only can be noticed by his arm and feet here and there appearing in the shot
The story is based on an California businessman set out on a car trip also happens to pass a certain truck on a two-lane road. The truck however, which seems to have a mind of its own, clearly seen wants revenge and spends the rest of the journey getting the driver.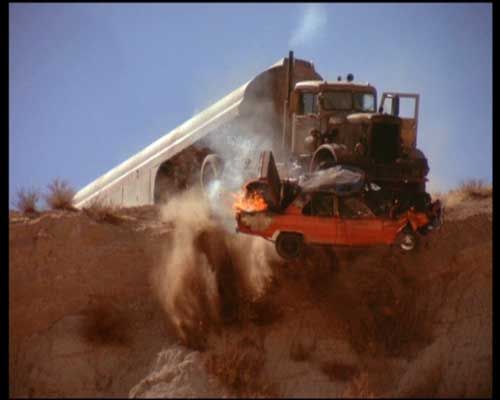 Figure 3 - The last scene
The last scene of
Duel
(1971) along with the truck screams sound effect was used again by Spielberg at the end of
Jaws
(1975). It say a lot about the connection of both films and
'the original 'scream' sounds effect was influenced from taken the horror classic film of Creature of the Black Lagoon (1954).' ( YouTube 17/07/2014)
Figure 4 - David Mann in a Chuck's Café
"David Mann is a man trapped: by the intrusive world around him, in a potentially loveless marriage, and in the pressure and responsibilities of a man just trying to make an honest living to care for those he is responsible for. Worse, he'll soon have another random adversary breathing heavily down his neck, one that'll make all of his other pressures seem like child's play." (Schober 2015)
In an early scene the viewer learns that David Mann has difficulties in his married life, this is shown through a telephone call. (Figure 4) sees that the character David Mann is stressed out further in the chuck café because he is trying to find out who is the driver of the truck is . When he spies on the truck driver in the chuck café that shows a few men who looks like a cowboy and any could be the truck driver.
Bibliography:
Editors, T. (2014) Book excerpt: Steven Spielberg and duel: The making of a film career | Balder and dash. Available at: http://www.rogerebert.com/balder-and-dash/book-excerpt-steven-spielberg-and-duel-the-making-of-a-film-career (Accessed: 14 February 2016).

Schober, A. (2015) Steven Spielberg's duel (1971) and the road to interpretation: Steven Spielberg and duel: The making of a film career by Steven Awalt. Available at: http://sensesofcinema.com/2015/book-reviews/steven-spielbergs-duel/ (Accessed: 14 February)

The Devil on Wheels (2014) Duel truck scream. Available at: https://www.youtube.com/watch?v=meSa7PPInwU (Accessed: 23 February 2016).
Maslin, J. (1983) Movie review - duel - 'SPIELBERG'S 'DUEL,' FOUR-WHEEL COMBAT. Available at:
http://www.nytimes.com/movie/review?res=9804EFD81138F936A25757C0A965948260
(Accessed: 7 February 2016).
Illustration List:

Figure 1 - Film poster
http://images.moviepostershop.com/duel-movie-poster-1971-1020376106.jpg
( Accessed on 7 February 2016)

Figure 2- Still image
https://moviefilmreviews.files.wordpress.com/2012/02/carandtruck.jpg
(Accessed on 7 February 2016)

Figure 3- The last scene
http://p5.storage.canalblog.com/56/52/110219/44727333.jpg
(Accessed on 7 February 2016)

Figure 4- David Mann in a Chuck's café
https://evelynfilmfan.files.wordpress.com/2015/09/duel_1.jpg
(Accessed on 24 February 2016)